...to make chimes this awesome!
We're a family business spanning three generations with over 45 years of experience (consecutively, that is, combined we have like a million years).
Jean and Ted Chalfant started making chimes in 1970.
They raised all their daughters doing art shows what felt like every weekend.
We were tied to toolboxes, farmed out to labor for other vendors, and taught the ends and out of selling chimes.
Now all three of us make chimes!
Donna and I work together to run Bottle Benders and our other sister, Kim, runs her own business out of Florida.
It used to just be us and Mom & Dad hanging some chimes and doing some art shows.
Then we found our way into the world of wholesale in 2010.
We've never looked back!
That's when our team started growing.
My wife, Maura, joined the business five years ago.
And my nephew, Christopher (Donna's son), joined us three years ago.
We also have a team of three employees (Shannon, Katelynn, & Darla) that keep the wheels rolling around here!

Our chimes are made from wine bottles that are sliced up and melted down. Donna cuts up about a dozen cases of wine bottles a day. The rings are then fired in a kiln to around 1500 degrees F until they melt flat. Shannon loads and unloads our fleet of 12 kilns everyday. We make all our wind chime tops in house. Ted preps the wood ones in our wood shop. Christopher runs our PlasmaCam to cut out all the metal tops. Christopher and Maura run our paint shop that produces all the bright rainbow circles. Then all the pieces move to the front of house to get prepped to hang. Maura works out of the cache of circles to get all the styles of chimes hung. We have somewhere around 30 different variation of rings! Jean, Maura, Katelynn and I hang all our chimes. After they're hung Darla wraps them up, and Donna & Katelynn get them boxed up and shipped out. If you call up the shop you'll probably to talk to Jean, Maura or me!

If you have a question, please give us a call! We make every chime start to finish, and take a lot of pride in making our chimes out of the best materials. The string on them will last at least 10 years (maybe more, but we've tested it for that long). The chain is stainless steel, and made in the USA. Our tops are 16 gauge steel, that are powder coated by a shop in the next town over.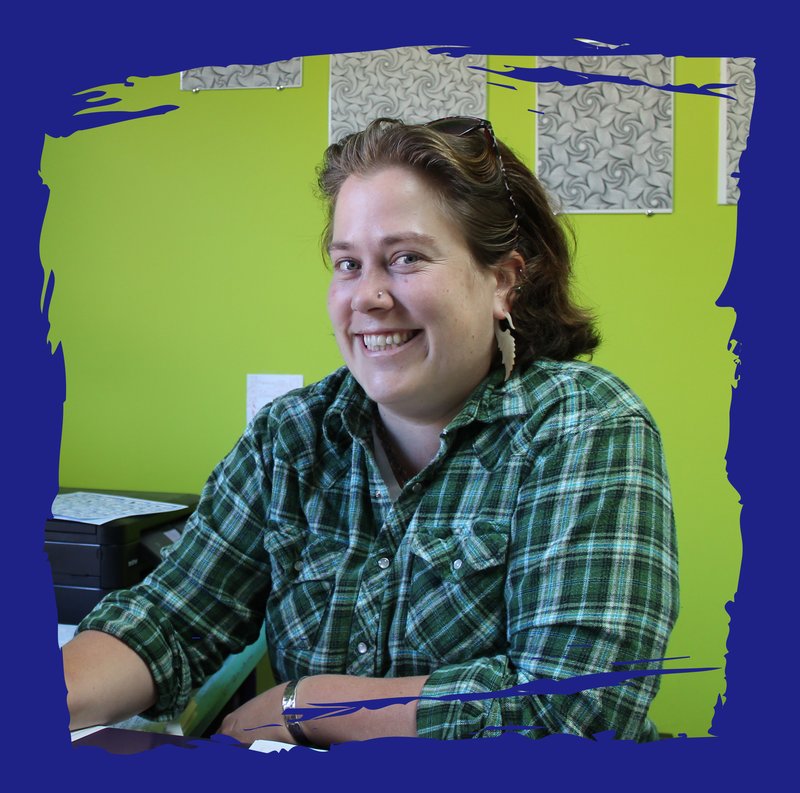 Roxy Chalfant working hard designing new ad materials!